9th Annual Marching Band Classic
It's a Classic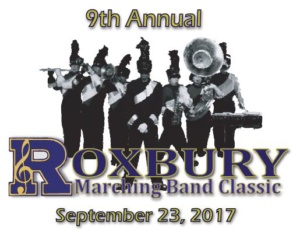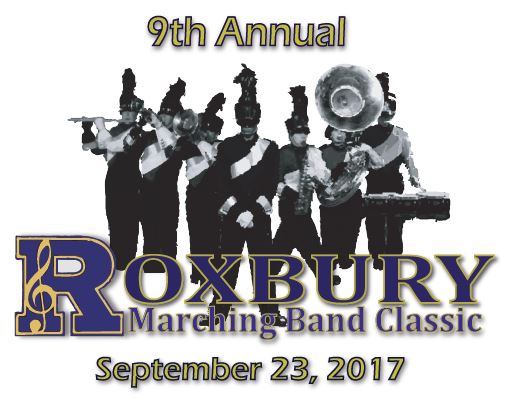 This Saturday Sept 23, 2017 is the 9th Annual Roxbury Marching Band Classic. Join us for this fantastic event.  More information right here.
It's not to late to volunteer
We cannot run the Roxbury Band Classic without you!  Please volunteer some time to come help make this another memorable year for us and for the visiting bands.
It all starts with you!  
You can make a difference.  Just a couple of hours on Saturday, Sept 23 is all we are asking.
Sign up right here:
www.SignUpGenius.com/go/20F0D4DAEA829A7FD0-marching2 
Thank you for your time and generosity to the Roxbury Band Program.
Can't be at the Roxbury Marching Band Classic?
We'll miss you..  But you can still help!  The Classic is the largest fundraising event held to benefit all of the instrumental music programs in the Roxbury School District; and we are also holding a special donation at the event in support of the Rockport-Fulton High School band program, devastated by hurricane Harvey.  Checks can be sent to RHSBPA PO Box 187, Succasunna NJ 07876, or brought directly to any of the Roxbury  Band directors. Please make your check payable to RHSBPA, and write "Donation- Roxbury Music" or "Donation- RFHS" in the memo section.  Roxbury High School Band Parents Association is a 501(c)3 nonprofit organization and all donations are tax-deductible.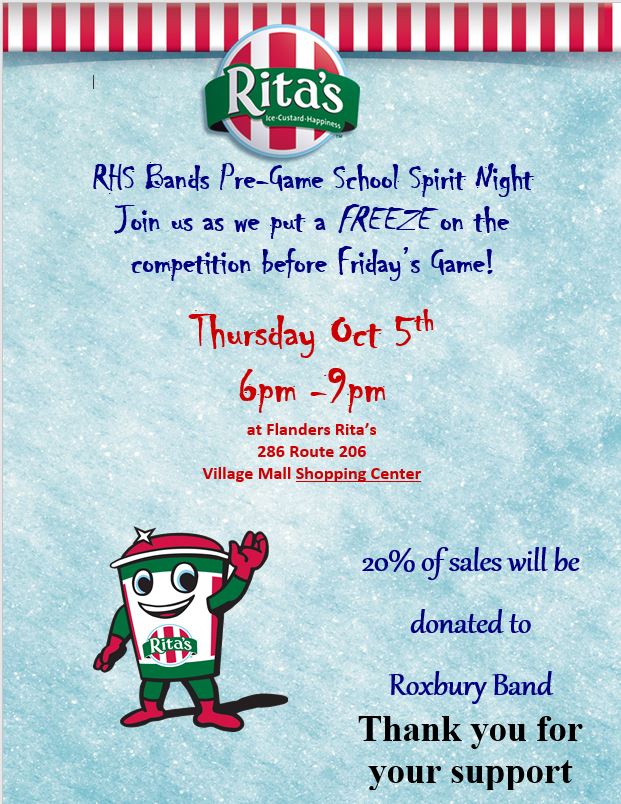 RHSBPA ASSOCIATION FUNDRAISER
FUNDRAISING
RHSBPA ASSOCIATION FUNDRAISER
We will be holding a Gertrude Hawk Catalog and Online fundraiser.
You may participate in two ways – Online and Catalog.
The Online fundraiser is available now. Instructions on how to set you your site will be available in the next two weeks. You will be able to email your link to all of your family and friends. It couldn't be any easier! Online orders may be ordered as late as April 9.
Catalogs will be coming in the next two weeks and will be distributed by the band directors. The deadline for all catalog orders is March 3. Please turn in your order form by then to your band director. Items will be ready for distribution by March 20 – in plenty of time for Easter! Every member of Band is encouraged to participate.
If you have any questions regarding any of the fundraisers, please contact Carla Dexter @ cdexter0325@msn.com.
The Roxbury High School (NJ) Instrumental Music Program is nationally recognized for its excellence and for preparing the next generation of students for life beyond high school. In 2016, various RHS instrumental ensembles will travel to festivals and competitions to showcase their talent and professionalism. The Roxbury High School Band Parents Association has set up this GoFundMe in an effort to raise funds to offset the high costs associated with these events.  
We need your help to reach our goal. Your generous, tax-deductible, donation will help us to ensure that our kids will participate in top-notch events and have some once in a lifetime experiences. Thank you so much for your support.