Sarah Bednarcik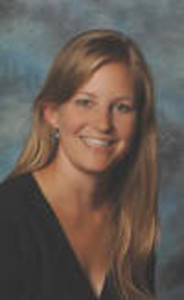 Sarah Bednarcik currently serves as the Assistant Director of Bands at Roxbury High School.  She co-directs the Symphony Band, is a District Woodwind Specialist, and serves as coordinator of the instrumental chamber music program while assisting with all middle school and high school bands. Ms. Bednarcik served as the woodwind ensemble conductor for the 2011-12 Region Chamber Ensembles, and as a clarinet clinician at high schools in the area.  She earned her B.M. in music education and clarinet performance from Northwestern University, and was a graduate assistant while earning her M.M. in clarinet performance from Rutgers University.
Ms. Bednarcik maintains a private clarinet studio in northern New Jersey. Her students successfully audition for Area, Region and All-State ensembles, and have been accepted to the schools of music at Rutgers University, Ithaca College, Michigan State, and Boston University.  She is currently the Eb clarinetist in the Eastern Wind Symphony and is also a founding member of Vento Trio. Vento Trio has performed at the International Double Reed Conference and presented at the Chamber Music America Conference in New York City.  They traveled to France to serve as clinicians and performers at the international Fou de Basson, and performed at the conservatories in St. Brieuc and Angouleme.  The trio was the resident chamber ensemble at the Festival de Música de Londrina in Brazil, where Ms. Bednarcik served as the clarinet professor. They have released two recordings, Brazilian Dances and Inventions (2006) and Hudson Views (2013).
Ms. Bednarcik resides in West Orange, New Jersey with her husband Jeffrey and their son Samuel.
Todd Nichols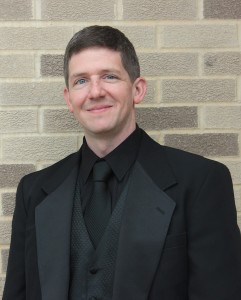 Todd Nichols' credits include work as a music educator, conductor, and performer throughout the United States. Mr. Nichols has served on the Midwest Band and Orchestra Clinic Advisory Committee, a national focus group for the MFA National Concert Band Festival, and the executive board for ASPIRE, a national organization devoted to commissioning new music for school ensembles. In April 2014, Mr. Nichols had the great honor of guest conducting the United States Army Field Band. He has also served as guest conductor for numerous honor bands in New Jersey and Connecticut.
Mr. Nichols' ensembles have been recognized for outstanding performance at numerous local, state, and national festivals. His wind ensembles have performed at Avery Fisher Hall, Carnegie Hall, the 2008, 2012, and 2016 MFA National Concert Band Festival, and the 2008 Midwest Band and Orchestra Clinic. The Roxbury Band program was awarded the Sudler Flag of Honor in 2013 and was a state level winner in the 2015 Mark of Excellence recording competition. Mr. Nichols' marching bands have won six state championship titles and have made finals for Music for All Regional competitions on multiple occasions. Most recently, the Roxbury marching band performed at the 2014 Pepsi Super Bowl XLVIII halftime show with Bruno Mars and the Red Hot Chili Peppers.
As Artistic Director and conductor for The Eastern Wind Symphony, Mr. Nichols orchestrated the ensemble's debut in Carnegie Hall, created an Annual Guest Artist Program and Visiting Distinguished Conductor Program, recorded the ensemble's most recent album Resurgence, commissioned three new works for the group, and is active in the development of the newly formed Eastern Wind Symphony Youth Band. The EWS recently performed at the 2015 Midwest Band and Orchestra Clinic and is the only adult band from NJ to ever be invited to perform at Midwest.
Mr. Nichols resides in Hillsborough, NJ with his wife Beth and daughters Sarah and Emily.
Ryan Sweer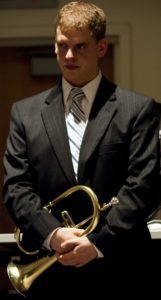 Ryan Sweer currently serves as an Associate Director of Bands and the Brass Specialist at Roxbury High School.  His responsibilities include co-directing the Symphony Band and assistant directing the Honors Wind Symphony and Concert Band, teaching brass lessons and sectionals in grades seven through twelve, teaching the Advanced Placement Music Theory course, and assisting with the Marching Gaels, Roxbury Sound, and RHS Jazz Bands.
Mr. Sweer holds a Masters of Music in Jazz Studies from the Jacobs School of Music at Indiana University, where he studied jazz and trumpet with Joey Tartell, Pat Harbison, and David Baker.  Prior to that, Mr. Sweer earned his Bachelors of Science in Music Education from Messiah College where he studied under Dr. William Stowman, Dr. Bradley Genevro, Kirk Reese, and Tim Warfield.
Through his professional experiences, Mr. Sweer has taught students in fourth grade through college.  Most recently, he served as the Director of Bands for three years at Glen Meadow Middle School in Vernon Township, NJ.  He also spent two years as an Adjunct Professor at Messiah College where he taught music theory and brass methods courses, as well as directed the Messiah College Big Band.  In addition, Mr. Sweer maintains his own private trumpet studio with students who have successfully auditioned for honors ensembles through the All-State Band and Jazz Band levels.
Mr. Sweer resides in Mount Arlington, NJ with his wife Krista.
Gregory Boccuti is a band director at Eisenhower Middle School and a district woodwind specialist for the Roxbury Public Schools in Succasunna, New Jersey.
Mr. Boccuti directs one of two grade level ensembles at Eisenhower Middle School. Additionally, he directs the high school Jazz Big Band, co-directs the middle school Honors Band, assists with the high school Wind Symphony, Symphony Band, Concert Band, and other district jazz ensembles, and is the director of the award winning Marching Gaels and Roxbury Sound. Serving as a woodwind specialist, Mr. Boccuti teaches saxophone and flute lessons in grades six through twelve. Mr. Boccuti has also served as a manager for the NJSMA Region I Intermediate Band.
Mr. Boccuti graduated magna cum laude with his Master of Arts in Teaching from Montclair State University. He specialized in Music Education and studied conducting with Dr. Thomas McCauley. Mr. Boccuti also holds two degrees from Lebanon Valley College in Annville, Pennsylvania: a Bachelor of Music in Music Recording Technology and a Bachelor of Arts in Jazz Performance. During his undergraduate coursework, he studied saxophone, woodwind doubling, and jazz under the tutelage of Professor Thomas Strohman.
Mr. Boccuti maintains an active private saxophone, flute, and jazz improvisation studio in both New Jersey and southeastern Pennsylvania. His students successfully audition for Area, Region, State, and National ensembles, and have been accepted to many top schools of music. Prior to teaching, Mr. Boccuti worked in the music industry as both a professional musician and professional recording engineer.
Mr. Boccuti resides in Belle Mead, New Jersey with his wife Nora.